Friends, makers of all ages, creative minds, David from Kano here.
Last year an opportunity arose for our young company. The chance to work with Warner Brothers and take one of their biggest universes into the learn to code domain. This universe was the Wizarding World (!) and today I'm beyond excited to introduce the result of the work we've been doing, the Harry Potter Kano Coding Kit.
The Harry Potter Kano Coding Kit lets you build a wireless wand that teaches you how to code and create your own spells, with over 70 challenges inspired by the Wizarding World.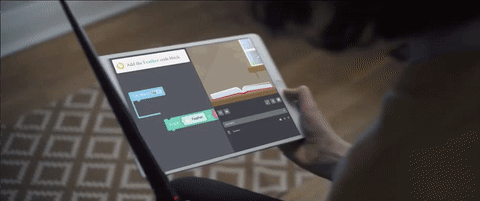 ![](/content/images/2018/07/KANO-CODINGWAND-PR-BOX-OPEN--Large-.jpg)
It is now available for pre-order for $99.99 / £99.99 / C$129.99 at Kano.me and will go on sale worldwide at Kano.me and selected retailers in the United States, Canada, the UK, Australia and New Zealand starting October 1st, 2018.
This kit is our first-ever made with tablets at the forefront and will work with most iOS, Android tablets, as well as Windows and Mac OS machines.
First, you follow a step-by-step manual and build a wand. Then you learn about sensors, data, and code along the way. The wand combines a gyroscope, accelerometer, and magnetometer to detect its own location and speed in tridimensional space, making it capable of tracking your hand movement.
These sensors allow it to place a cursor on screen exactly where you point it, and also recognize the motions of some signature spells. You can also code the wand's light and rumble pack.
The wand connects to the Kano app to capture movements and turn them into rich effects, to make serpents slither, toads transfigure, fires flow, feathers float, goblets duplicate, Every Flavour Beans enlarge, and more.
The creative challenges teach the basics of coding and introduce concepts of real-world programming thanks to a block-based interface and a JavaScript inspector.
The kit includes a poster that illustrates classic Wizarding World spell motions such as Incendio, Stupefy, and Wingardium Leviosa, featured in some special coding challenges. It also includes stickers inspired by the Wizarding World and reimagined in the unique Kano style.
The Harry Potter Kano Coding Kit also connects with our online community Kano World, where anyone can make, share, and play with art, music, and games made by people of all skill levels from 86 countries.
With 247,000+ members, over 620,000 creations, and 55 million lines of code, Kano World is a thriving free, creative community that lets you see the code behind any piece of artwork, song, game or app and tweak it to make it your own.
We're very excited to introduce a creative tool inspired by a classic franchise, brought to life with sophisticated electronics and software, that you can code yourself.
We are a new kind of computer company in this way -- simple, open, made by you -- and in our core DIY computer kits, we have previously given people the ability to express themselves with art, music, Minecraft, Pong, Snake, YouTube, RSS, radio, sound, sensors... it's important to integrate these technologies with excellent stories, services, and content so that people can riff on them, and make them do something new. It shouldn't just be code for code's sake.
Kano's mission is to demystify technology and open its creative power to all, and products like the Harry Potter Coding Kit help us do this in new narrative ways
Excited about the new kit? Are you a Harry Potter fan and want to tell your friends on Twitter? Just click the link below and tag them!